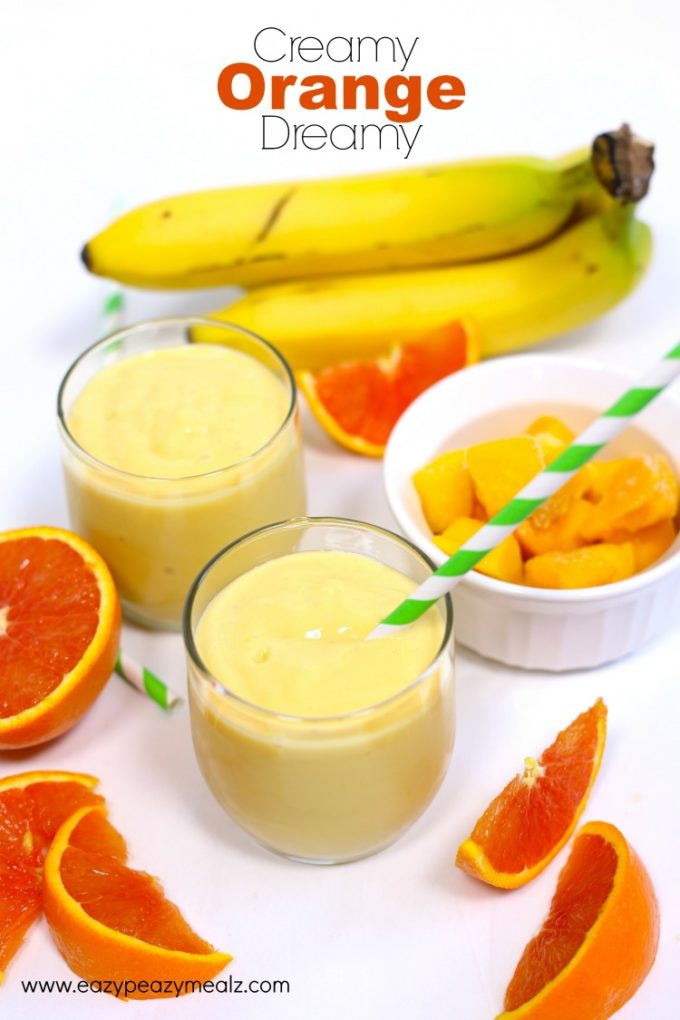 Creamy Orange Dreamy smoothie is protein packed, rich in Vitamin B, calcium, magnesium, phosphorous, is tastes amazing!
Hi! I am Rachael at Eazy Peazy Mealz, I am excited to be guest posting today and talking about something I love: Adding health to your child's diet with ease!
I have a son who is a very picky eater. I struggle to get him the nutrition he needs in a package he will accept without too much resistance. We have tried many tactics for getting him to eat healthier foods, some which work better than others. Like the hide the healthy in the pizza sauce. But one tactic that always works is making foods he already likes even healthier, while making sure they taste great and look appealing too. And we surely accomplish that with this smoothie!
Smoothies are an excellent way to add health to your child's diet without much work or resistance. Kids love smoothies, and I have found in my own life that making a smoothie is an easy thing to add to the morning routine, and can help my kids get a few extra vitamins and nutrients they would not have gotten otherwise. Not to mention it is sweet and flavorful, without all the garbage that comes in other sweet breakfast options like cereals!
This video is about making smoothies with whatever you have to learn how to increase nutrition with smoothies. Allowing you to adjust the flavors to whatever you prefer, while getting in some extra health.
But now, let's talk about this particular smoothie…the Creamy Orange Dreamy. It is all that it says and more. It is creamy, thanks to the coconut milk in it. It is orange, thanks to the orange juice. It is dreamy, thanks to all the other awesome ingredients like mango, banana, and greek yogurt!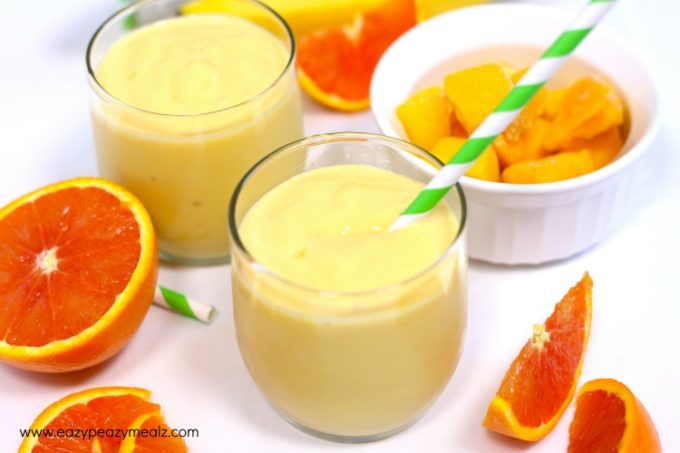 Coconut milk is highly nutritious and packed with vitamins. It has vitamins C, E, B1, B3, B5 and B6, and more. It is rich in sodium, calcium, magnesium, and phosphorous. Not to mention it provides a wonderful source of protein which is perfect for starting the day. So why do all of these matter?
Magnesium, for example, can help keep stress at bay, and can help reduce fidgeting and restlessness in ADHD kids. Protein provides the brain with amino acids it needs to function at optimal levels, stave off hunger, and provide energy. The fats in coconut can provide the body with energy. The B-vitamins can help with behavior, etc.
The orange juice in this smoothie is also ideal because consumption of oranges can reduce risk of disease, provide smarter carbs, and help alkalize the body. The bananas are full of potassium. The mango improves digestion, alkalizes the body, and so much more!
I could go on and on about the nutrition found in this smoothie, but let's talk about the taste. It is so yummy that despite the nutritional qualities kids are going to love it. It will help them get a healthy start to the day. Can increase focus, and give the body key vitamins and minerals for optimal function all while tasting like a treat!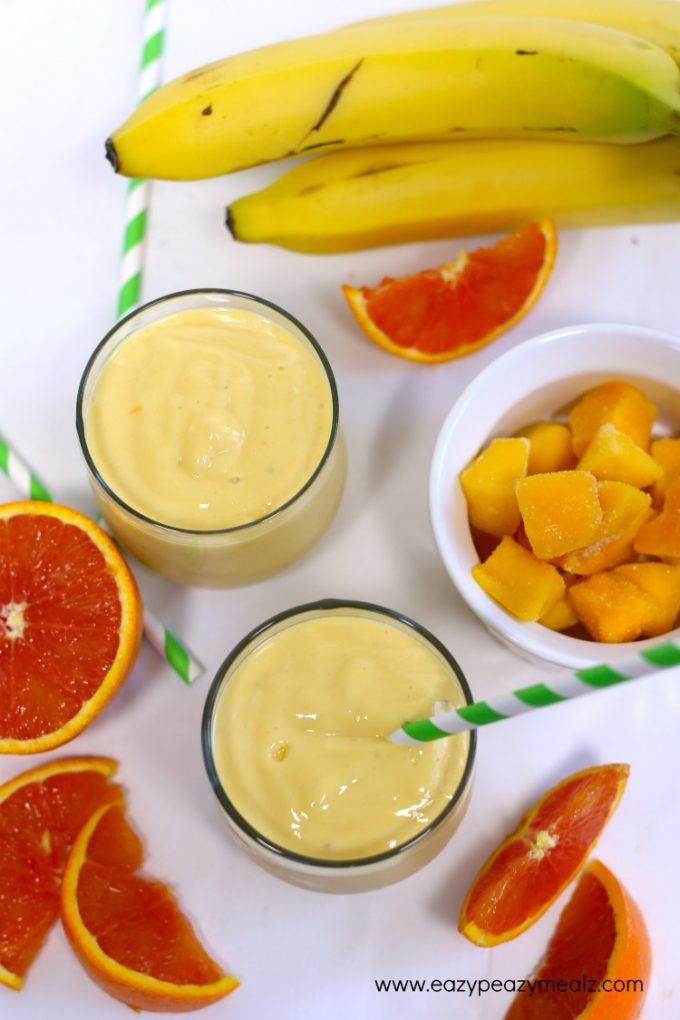 So let's get to the recipe…right?
Ingredients:
½ cup coconut milk
½ cup orange juice (fresh is best)
1 cup pineapple juice
1 ½ cups frozen mango chunks
1 single-serve container Key Lime greek yogurt
2 bananas
Directions:
Put all ingredients in a blender and blend until smooth!
Optional: Add a scoop of chia seeds, or protein powder, flax seeds, etc. for added fiber, protein, and health!
For more ideas for getting kids to eat healthier, check out this article: How to get kids to eat veggies!