Berry Granola Popsicles – Kids Nutrition
A healthy, sweet, treat, these berry granola popsicles are an excellent way to curb a sweet tooth without adding sugar to your diet.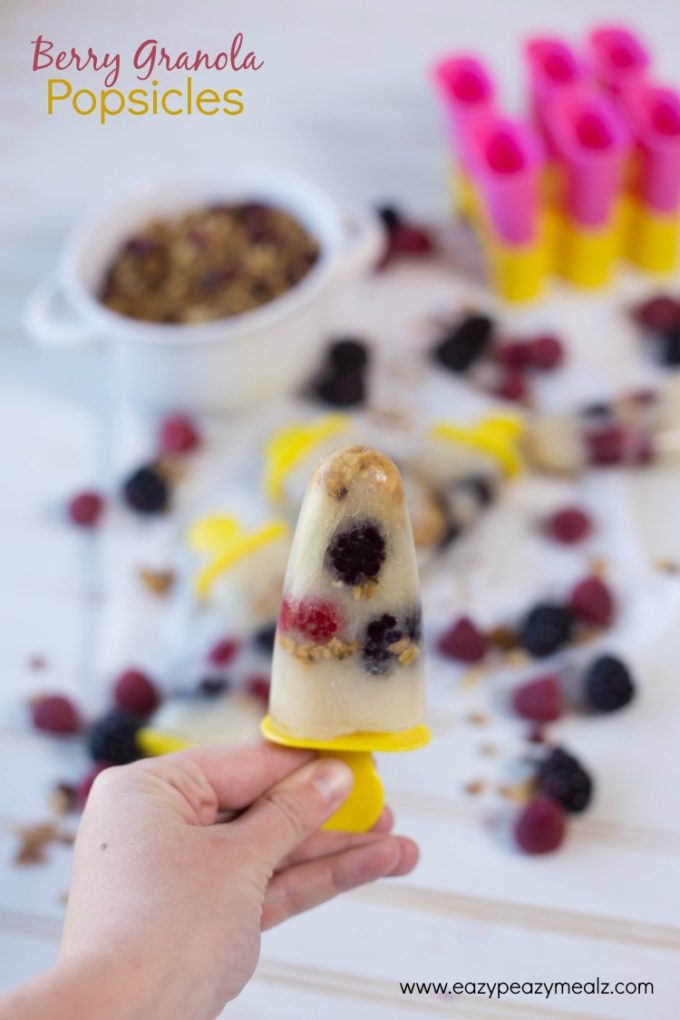 Hi, It's Rachael with Eazy Peazy Mealz again. Today I wanted to talk to you about dessert. It doesn't have to be sugar packed or super unhealthy to be enjoyable.
I love summer for all the fun frozen drinks and treats. Homemade ice creams, slushes and punches, and of course, popsicles! They are amazing, and fun, but often times they are also full of not so good for you sugars.
We all love those tasty sugary desserts, but sugary foods tend to make our blood sugar skyrocket, which can cause problems with attention and focus, moodiness and frustration. Desserts with natural sugar or low amounts of sugar can steady blood sugar levels, especially in children, and can benefit the brain and help with learning. It's amazing what healthy sweets can do for your child's digestion, metabolism and development.
My son is a sugar addict. As am I, admittedly. But sugar is not great for you, or your brain, and with a son struggling in school, we are doing anything and everything we can to boost his brain power. He is attending Integrated Learning Strategies to get some tutoring and help academically, and today I have partnered with them to bring you this fun and healthy dessert that gives you all the flavor and satisfaction of a popsicle without the artificial sweeteners. Head over to my blog and check out another fun low sugar dessert option kids love.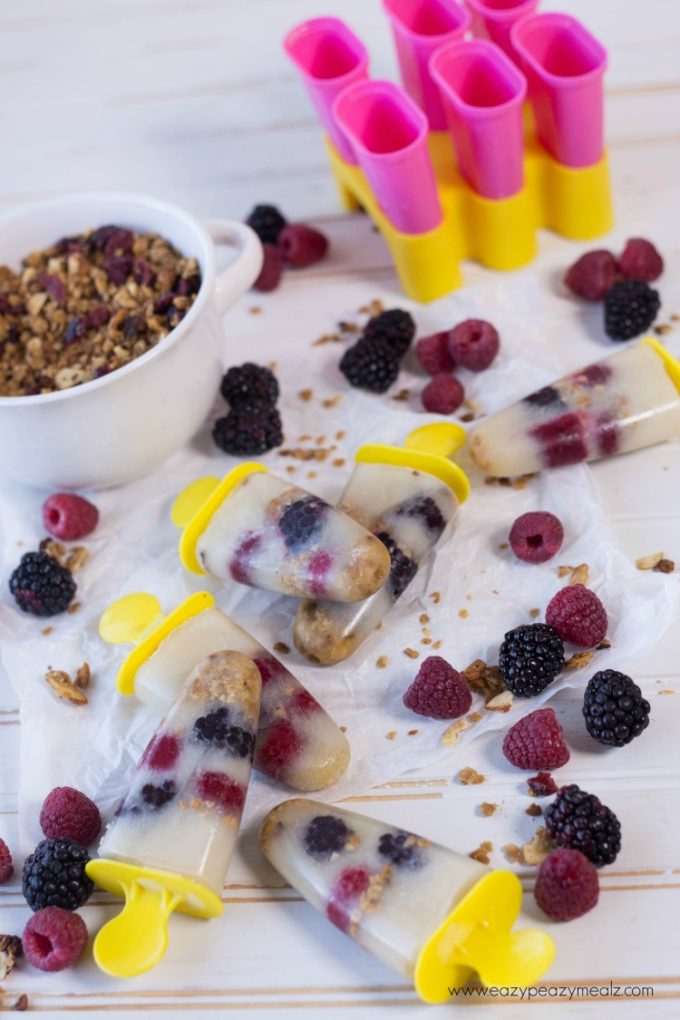 The changes we are making to our son's diet are certainly making a difference. The improvements are slow, but there, and I have noticed a huge difference in his attitude and behavior at home. He is also sleeping better.
We have not cut his sugar out all together, and we have integrated other methods too, like using some essential oils, and cutting down on his screen time, and combined we are seeing results.
However, the kid has a sweet tooth, and always wants treats. To help, I have been looking for healthy alternatives to the copious amounts of sugar he wants. And I have found some great alternatives, like this Dirty Monkey Shake that is a protein shake that tastes like a milkshake. And of course, these popsicles!
They are so easy to make, easy to customize, and taste awesome.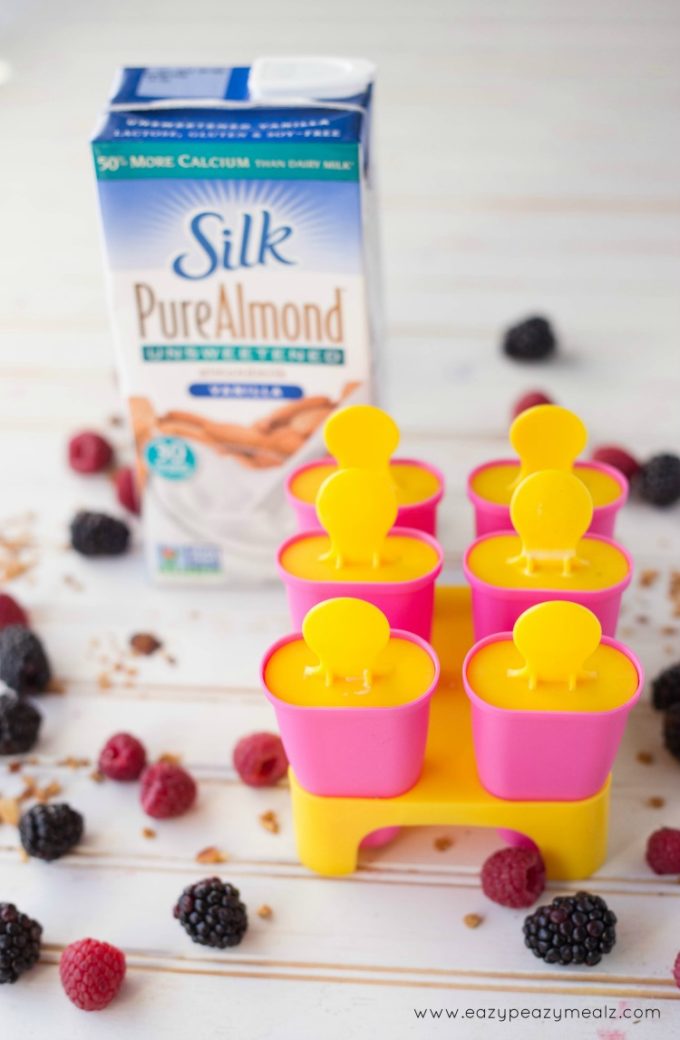 You need 3 things to make these, and a popsicle mold:
A liquid base. I love using an almond milk, coconut milk, or fresh squeezed juice. The almond milk has less sugar, so I went with that for today's recipe.
Fresh fruit. I chose berries
Granola. An excellent way to add fiber, grains, and nuts and seeds to your diet.
You can buy almond milk (or soy milk, etc.) or make your own. Learn how to easily make almond milk in this video:
Then you need fresh fruit. Berries are a favorite around here, are great antioxidants, and high in phytochemicals, which help protect cells from damage. Basically, berries not only taste awesome, but are awesome for your health! But of course, you can use kiwi, stone fruits, orange slices, banana, or other fruits if you would like.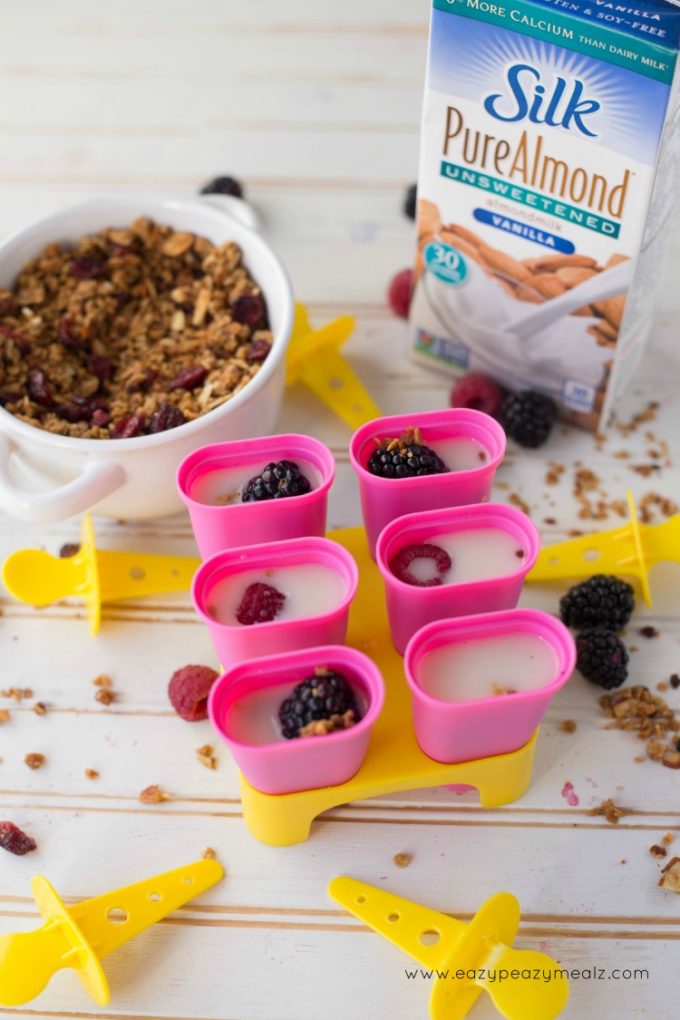 Then a little granola. I love adding oats, nuts, and grains into my kid's diets whenever I can, and adding a little spoonful of a homemade granola into a popsicle is awesome. Of course, if you have texture issues with food, skip this step.
To assemble, just put your granola and berries into your popsicle mold, pour your liquid over the top, and put the stick in and freeze. If you do not want to buy a mold, paper cups and popsicle sticks work equally well.
If your almond milk is not sweet enough for your liking, use raw honey or stevia to sweeten it.
Enjoy!
---
Integrated Learning Strategies is a Utah-based center dedicated to helping mainstream children and children with learning disabilities achieve academic success. Our services provide kids with non-traditional tutoring programs within the Davis County, Kaysville, Layton, Syracuse, Farmington, and Centerville areas. Areas to find Integrated Learning Strategies include: Reading tutors in Kaysville, Math tutors in Kaysville, Common Core Tutors in Kaysville, Tutors in Utah, Utah Tutoring Programs